FX GENERATOR INCLUDED WITH PYROCREATOR 4D
The FX Generator is the application used to create your 3Dimensional Effects and Libraries to be used in VisualShowDirector and PyroCreator.

FxGenerator is a flexible, creative and fun tool to use that can be learned in one day and take your imagination far beyond.
FXGenerator is a must have tool for any manufacturer. It will help to reduce enormous time and work on effects construction and testing rehearsals.
It will allow to design color combinations, stars quantities, types, duration, forces and many other parameters in a firework effect, in 3D. Once you have the virtual appearance perfected you can make a video and send to your customers for review and build it!
With the FXGenerator you will produce Visual Reference codes for the Effects that are associated with your effects inventory in the Effects Manager and translated to the Visual Reference field in the Script Manager.
This allows the Viewer to display and animate your shows.
The FX Generator comes with a Template Library of hundreds of generic effects that you can use as are or duplicate and change to custom requirements.
The effects in the Template Library are grabbed to produce your own Libraries. It is easy to learn to create effects by looking at the structures of existing ones.
You create pattern effects by drawing them in the Physical Structure panel of the shells or in Plane Layers. Any pattern can be created to be shot from the air or the ground. You can also obtain a Script with the individual shooting angles for each projectile. A unique feature of FxGenerator!
The effects can be refined to increase the realism as much as you want. You can also expand your imagination to create effects out of this world
You can see the effects from different perspectives and render videos of each effect directly from the application.
For complete details on the FX Generator, please refer to the User Guide or Video Tutorials
INCLUDED WITH PYROCREATOR 4D
Dual Installation on 2 Computers
You can install and authorize two computers with one unique license. Only one computer can run at the same time. If you want to use in a second computer the first one has to be logged out for at least one hour. After that you do not have to be online to use the software.You can register a new computer up to 4 times.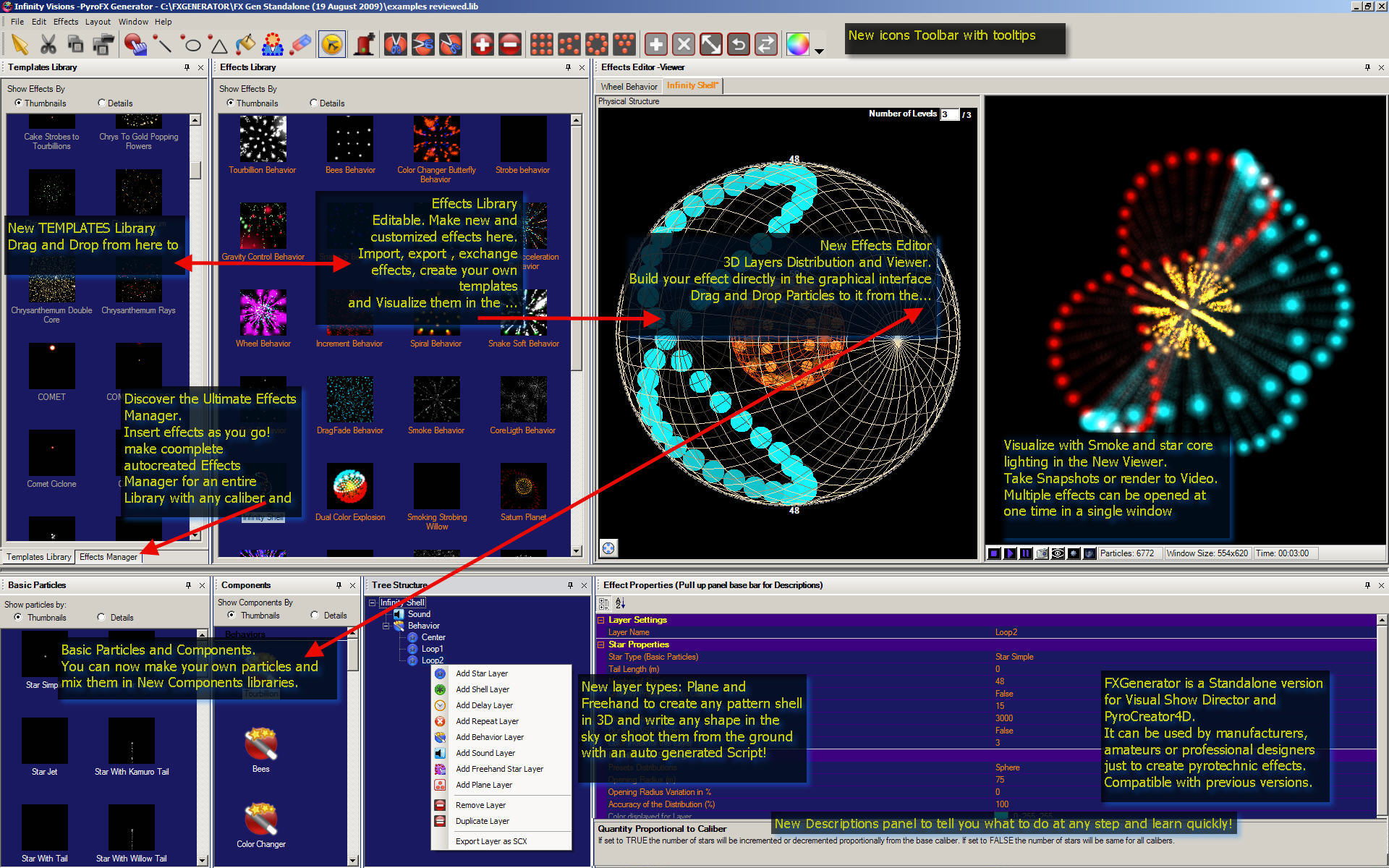 Easy Registration and Activation Online in 3 steps:
When you open the software it connects to our Registration- Activation online form.

Enter Your Serial Number and installation Id

Receive your Activation Code and begin using the software.
System Requirements:
We suggest a machine with at least 1.7ghz CPU and 256MB (512 or more recommended) of RAM with a dedicated video card (Nvidia or ATI) with at least 64MB (128MB recommended) of dedicated RAM.